RULE TO APPLY IOSS NUMBER BASED ON VALUE
Overview
You can create a rule to include a specific IOSS number against an order automatically via rules.


1. Set the first condition
Go to Settings > Rule > + Add a new Rule
Use the dropdown menu to set the condition "Destination Country Code" In "European Union Countries"

2. Set the second condition.
Click on +Add Another Condition to this rule.
Use the dropdown menu to set the second condition e.g. AND if the Order Value is Less Than 150.00 (or your local country equivalent)

3. Set the action
Select the Action "Set Shipper Tax Number" using the drop-down menu
Set Value to "IOSS - Import One-Stop-Shop"
Add in the IOSS number to be used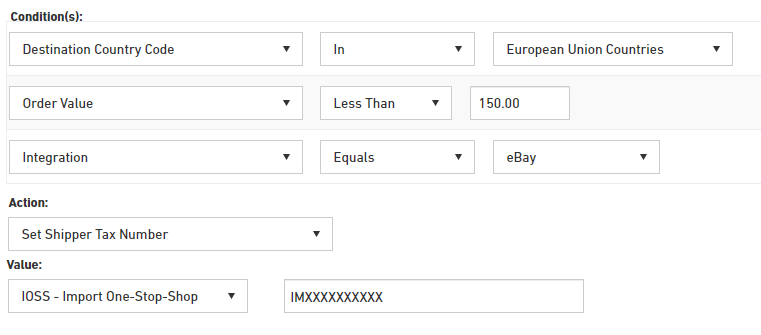 This will now be automatically supplied to DHL when an order meets the above condition.