Singapore Regulatory Update – GST Paid

A new feature has been released to support the regulatory requirements of indicating GST paid on line item level when shipping to Singapore. An article has been published Here

​​​​​​​Address Book Upload – Now available

Uploading address books via csv has now been added. Customers can upload their own CSV files within the Address Book page within their profile.
March
PrestaShop app release

We have made available the PrestaShop rates at checkout plugin which we offer on our support article Here, directly on the PrestaShop addon marketplace.

​​​​​​​Package limit increased

The limit on the number of packages that can be added to 1 shipment has been updated to 999 packages now.

Dangerous Goods Enhancement

This now has been enhanced to include more Dangerous Goods type which can now be applied to shipments, we have also introduced a rule action to allow automation of applying dangerous goods, more information can be found here.
April
Rules: Reason for Export


New Rule Action added to supports specifying different export type that the defaults setting. More information can be found here

Magento 2: Bundles

We've now added native support for Magento 2 Bundles to allow for seamless writeback for orders containing bundled items. For more information on Magento 2 check out our support guide here

Magento 2 - Integration Improvements

The Magento 2 integration has been updated with the below functionality:

Define a custom user-agent in the Magento 2 settings to make whitelisting much easier than maintaining a list of IP's through your firewall

Supporting different address configurations with "Map Address Line 2 to building"

Import single orders with the new tool in Magento 2 Settings
MAY
Quick Print upgraded to Workflows!

Implemented enhancements to enhance interaction with our Quick Print feature.
The page's nomenclature has been transformed from Quick Print to Workflows, accompanied by a redefinition of the option labels. "Print order" has been updated to "Scan and print" while "Open to order details" has been modified to "Scan and open".
In addition to these changes, Workflows now comes with two new features: Packing validation and scan barcodes to select packaging.

Packing Validation

Enables users to scan product barcodes to ensure the correct item has been picked. Users can then track the progress of items in real-time during the packing process.
For more information on the packing validation process and steps, please refer to our support guide.

Product Catalogue

Allows users to store all relevant details about their products within DHL Express Commerce, including SKU, HS code and bin location to populate missing values during order import.

For more information on how to set up and use the Product Catalogue feature, please refer to our

support guide.
JUNE
Additional Parties Enhancements

We've expanded support for Additional Parties (Sold to) addresses and types in DHL Express shipments. Assign roles such as buyer, seller, exporter, or importer to accurately determine duties and tax responsibilities.

Simplified DHL Express Commerce Settings Navigation

Exploring DHL Express Commerce settings is now smoother than ever. Our revamped layout categorizes menu items for quick and intuitive access, facilitating effortless navigation.
JULY
Seamless Order Navigation with Next and Previous Buttons

Navigating between orders has been upgraded for efficiency. Our latest addition of "Next" and "Previous" buttons at the top-right corner of the Order details screen enables swift movement between orders. These buttons take into account any applied filters or sorting in the Orders grid, streamlining your order management process.

Print Multiple Orders on a Single Packing Slip

For convenience, you can now consolidate multiple orders onto a single packing slip, reducing paper usage.

Organized Packing Slip Item Matching

Introducing the option to apply 'Sort Order' to packing slips and packing summaries. Align your packing slip's item sequence with your warehouse's storage arrangement for expedited picking.
AUGUST
Expanded Optional Columns for the Orders Grid
Maximize efficiency by incorporating additional optional columns in the Orders grid. This eliminates the need to open individual orders, as you can now glean the following information at a glance:
Company name: Recipient's company name
SKU(s): Item-specific SKUs and quantities
Item total: Total value of ordered item(s) excluding shipping
Reference: Order's reference number
Order date: Now available for inclusion in the printed and shipped tabs
Streamlined Editing direct from the Orders Grid

Effortlessly edit key details directly from the "New" tab of the Orders grid. Five columns have been enhanced to allow comprehensive edits without the need to open each order individually. Editable fields include:

Customer/receiver address
Item(s) and associated information
SKU(s)
Carrier product options (e.g., ATL/Signature required)
Packaging dimensions

Enhanced Printing and Order Transition

Navigating between orders has been upgraded for efficiency. Our latest addition of "Next" and "Previous" buttons at the top-right corner of the Order details screen enables swift movement between orders. Boost your productivity by seamlessly transitioning between orders after completing a shipment, with the new print and move-to-next-order feature. All new buttons take into account any applied filters or sorting in the Orders grid, streamlining your order management process.
Print Packing Slip with Label Optimization

Our "Print Packing Slip with Label" function now supports printing a single packing slip per order, alongside the per-package option. This enhancement minimizes waste and eliminates duplicated content or versions of packing slips.
Autoprint with the Windows Desktop App

Configure your computer to streamline label printing upon their arrival, enhancing efficiency and preventing bottlenecks in your workflow.
Download and install the Print App.
From the toolbar in the Print App, select Tools > Auto Print.
Tick Enable auto print of any unshipped orders.
Configure how often you'd like DHL Express Commerce to scan and print new orders
Choose whether you'd like to save the label PDF to your computer (and the location) or have the label print automatically to your label printer.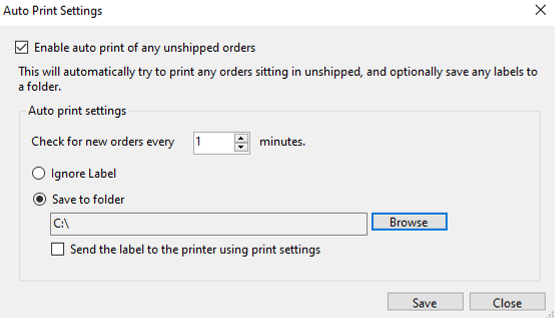 Now, each time an order imports to your account, it will be printed automatically.
Simplify your label printing process today by leveraging the Print App's automation
SEPTEMBER
Product Catalogue: Delete all products

We're pleased to unveil a handy update for our product catalogue users: the ability to "Delete All Products." Whether you're correcting errors or giving your catalogue a fresh start, managing your products is now much easier.
How to use the Delete All Products option:
Navigate to the Settings
Select Product Catalogue from the menu.
Find and click on the Remove All Products button.
Confirm your action to clear the entire catalogue.
⚠️ Note: Deleting all products is a permanent action, so use it carefully.

For more details about the Product Catalogue, consult our support guide.
View a single pre-defined packaging option or multiple with views!

You can now switch between two different views for the Packaging section in Order details.
The multi-package view displays all pre-defined packaging options.


Whereas the single package view displays one packaging option which can be changed via the dropdown.



By default, you will see the multi-package view. To change to the single package view select 'Single package' from the 'View' dropdown located at the bottom right of the Packaging section in the Order details page. Your selection is remembered, so you will only need to select it once.


Introduction of GoGreen Plus

This enhancement allows users the flexibility to apply the GoGreen Plus feature to their shipments, on an ad hoc approach on a per-shipment basis or the convenience of automatic application across all orders.



There is also an additional tick box in DHL Courier settings to default the GoGreen Plus Service.


Editing Line Items

The pen icon for editing line item has been removed in favour of the additional columns for line items. This line item edit pop up was causing UI issues.

You can now conveniently edit all item details directly within the item grid. If there's a specific column you'd like to edit that isn't currently visible, you can add it to the item grid by clicking the cog icon and then selecting the fields you'd like to display.

The choices you make will be saved, so you won't need to make these adjustments every time you open an order.

We made this change to allow you to personalize the platform to your needs. Many of the item fields may not be relevant to you, so you can now customize it to display only what you require
Tracking Number now available in Printed and Shipped Tab

We have now added a column option in the Printed and Shipped tabs, so customers now have visibility of the tracking number of the order directly from the orders grid
Shift+click to select multiple orders

You can now select multiple orders using shift+click!

💡 Tip: We recommend clicking within the order row itself as checkboxes do not support shift+click.

To select multiple orders

Click the first order, hold the Shift key and click the last order. All orders in between will be selected.

You can also hold the Control key (for Windows) or the Command key (for Mac) to select or deselect a single order while maintaining your shift+click selection.

Brazil NFE and State Tax ID fields
To enable shippers from Brazil to use DEC, we have now added the regulatory fields required to be submitted by every BR shipper.
NFE Key Field (This will only be visible for shippers from Brazil)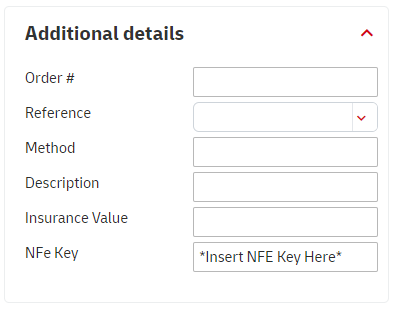 OCTOBER
Add additional information to an order with notes!

Order notes are displayed on the Order details screen. They're a useful tool for adding additional information to an order, communication between multiple team members, or ensuring something important doesn't get forgotten.
Order notes are internal only and are not shared with the receiver. Notes can not be edited once the label has been printed.

Show Integration Store Name

We now have updated the 'Import orders from integration' modal to include the store name of the integration. This is particularly useful for customers with multiple integrations with the same platform.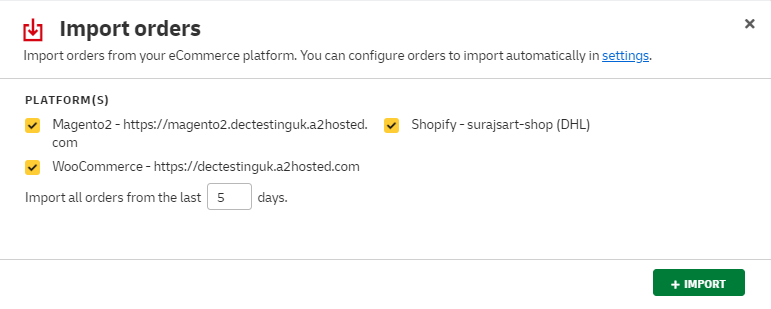 We have also updated the order grid column "Source" to also include the integration store name for further granularity.

Choose how to import customer notes from Shopify
Shopify users now have four different ways to choose from when deciding how order notes left at checkout should be imported and mapped in DEC.
The four options are:
Import order notes to the delivery instructions,
Import order notes to the notes section,
Import order notes to both the delivery instructions field AND the note section, or
Do not import order notes
Importing Shopify order notes to the notes section in DEC can be useful in cases where notes are not relevant to delivery, such as personalisation or custom gift messages etc.
To change how Shopify notes are imported and mapped:
From the Orders page, navigate to Settings > Integrations > Shopify Settings
Click on the Advanced tab and scroll down to the Field Mapping section
Select your preferred option from the Map order notes dropdown
Click Save
Compact and Expanded views for order grid

The expanded grid view is a new way to view your orders! It displays each item, SKU, and bin location onto a new line, allowing for easy viewing of up to 5 items per order.

To enable the expanded grid view:

Open the column options menu
Under Grid View, select Expanded
Click Apply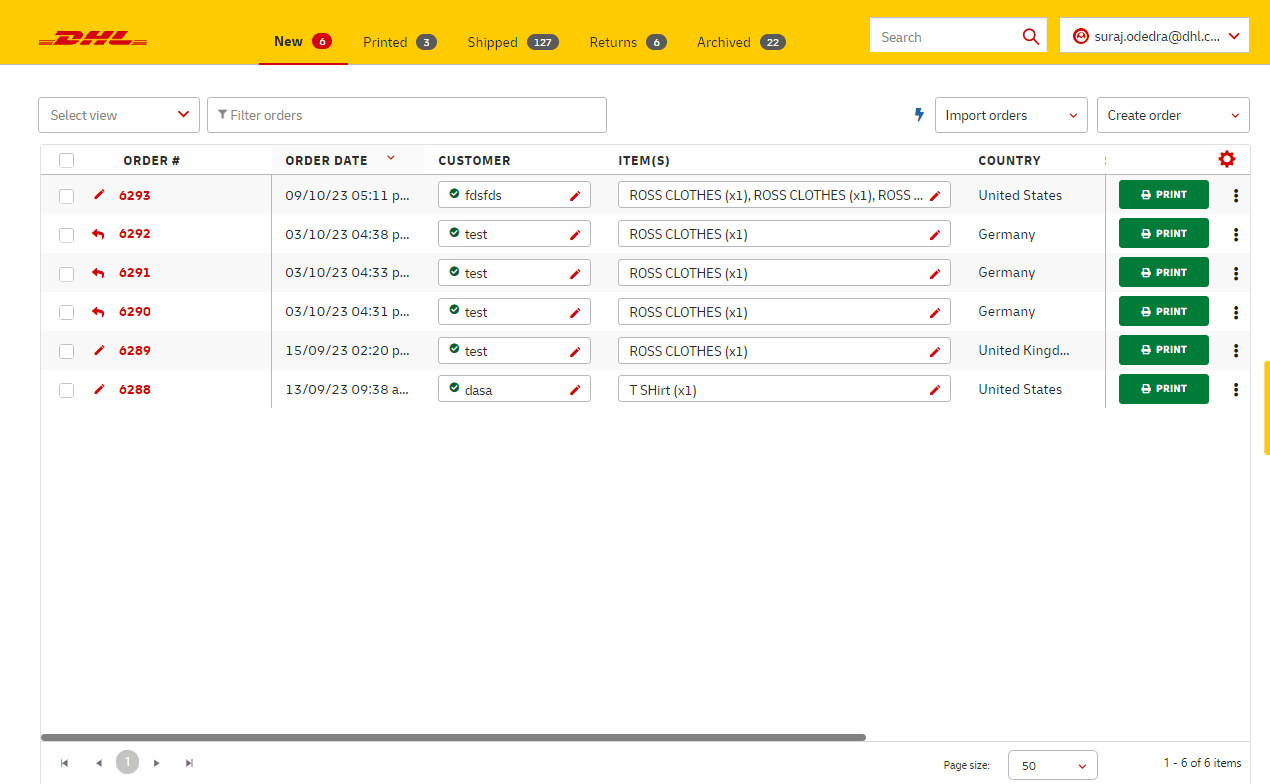 Improvements to the 'Package Sent' report

We've added new details to the 'Package Sent' report, including item SKUs, Incoterms, Order Value, Number of packages, and Package Names.

Please note that this enhancement is not retroactive, meaning that previously generated reports will not include this information. These new details will only be available on newly generated reports.