November
Self-Registration Wizard: A wizard has now been added to DHL Express Commerce to facilitate newly registered users in setting up their user profile. The wizard appears at first login and walks the user through all of the critical settings required to start shipping.
Note: the wizard will only appear for newly registered users, not existing users.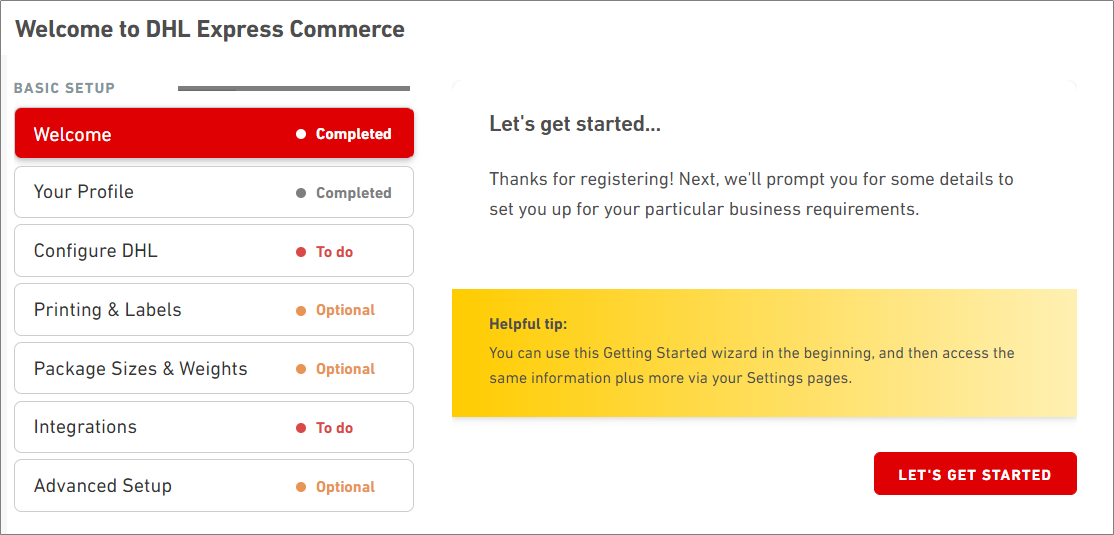 Sold to Address (Billed To): A new option has been added to configure different 'Sold To' addresses. These are also referred to as 'Billing Addresses'. They are used if a company has a registered entity in a destination country, or want to use a different entity or address on their commercial invoice to the senders address.
This option can be found here: Settings > Options > Sold To Addresses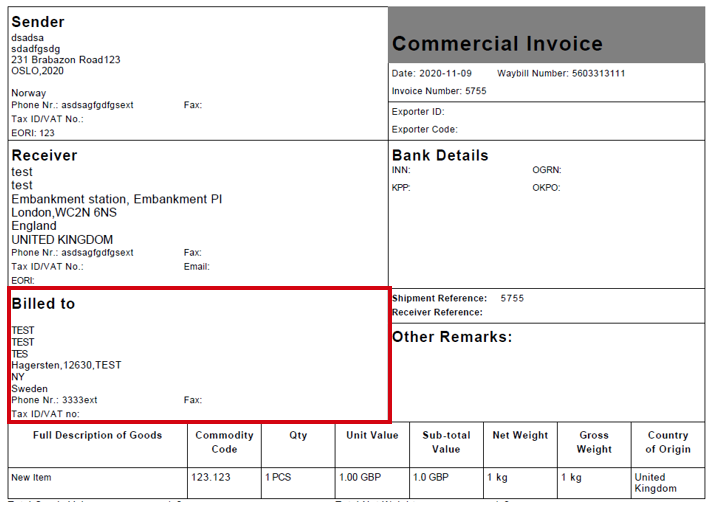 Russian Label Format:
When sending from Russia, either are an outgoing or return label, a special label format is used. DHL Express Commerce will now always use that Russian label format.
This is hard coded irrespective of the print settings of the user.
Amazon Importing - Batching Enhancement: An option has been added to the Amazon settings to
"Disable Batching". This is off by default.
The Amazon API is heavily restricted by API limiting which can make importing a large number of orders troublesome. For this reason we limit the number of orders imported to 50 per import (if using the auto importer this is generally fine).
However, if you have rules configured to not import all the orders, (i.e. International Orders only), this limit of 50 orders can cause issues (for instance the first 50 imported are not actually added). In this scenario it is recommended you use this option to turn off this batching functionality.
October
Reason for Export: The option was added for both outbound and return labels to specify the Reason for Export. This option can be found under Setting > Couriers> DHL Express > Advanced
September
Improved Amazon Importing: Improved the import process so less api calls are made and this should result in less API Limit Reached errors.
August
Business Rules. New Condition 'Integration': Utilized where more than one integration is setup in your profile within DHL Express Commerce. This new condition will allow a rule to be set for a specific integration.
CSV File Import Enhancements: Various improvements made to the CSV File Import
SFTP file upload capability
Additional fields added to the CSV schema

Description of contents
Dangerous goods flag (Y/N)
DDP flag (Y/N)
Country of manufacturer
Return Shipment Editing: It is now possible to edit the return shipment details prior to creating the shipment label. This is needed in cases where the number of items being returned differs from the original export for example.
PLT Flag on Shipped Order: Fix applied to correctly show that a shipment was sent as PLT when viewed in the Shipped tab.
Manifest (Courier Report): A new, optional feature added to allow a user create a courier report if desired. The report is a summary of the shipments being handed over to DHL Express for the day and can be signed by both the courier and a customer representative. Note: This is an optional feature, an electronic manifest is still always sent for shipments as soon as they are created.
Windows & Mac Print Client: A desktop printing client is now available for Windows 10 and macOS Mojave (10.14)+. The print client allows users to print shipment labels and customs documents to the appropriate printers with one click.
More information can be found here.
Download: DHL Express Commerce > Settings > Printing > Print Application