Overview
OpenCart is an easy-to-use, powerful, Open Source online store management program that can manage multiple online stores from a single back-end.
The following guide will show you how to integrate your OpenCart store with DHL Express Commerce. Once completed, your orders will automatically import into DHL Express Commerce and the tracking numbers will be written back to OpenCart when you print a label.
Supported Versions
1. Download & install the DHL Express Commerce app in your OpenCart account
Download the extension at the bottom of the article. There are two files to choose from, depending on whether you are running OpenCart v2 or v3.
Unzip the downloaded file. Please refer to the readme (included in the zip file) for instructions on how to install the extension.
2. Create an API access for DHL Express Commerce in OpenCart
Log into your OpenCart administration site
Go to Settings > Users > API
Complete API Name (this can be whatever you want it to be, eg. OpenCart DHL API)
Click Generate to generate the API Key

NB: you will need to copy and paste the API Name and API Key into your DHL Express Commerce admin account in the following step

Set Status as Enabled
Go to the IP Addresses Tab
Add the following IP addresses (click the + button to add more):

104.40.200.176
104.40.201.109
104.40.204.252
104.40.205.110
104.40.205.29
13.69.68.2
137.117.153.170
23.97.146.237
52.237.217.63

Click Save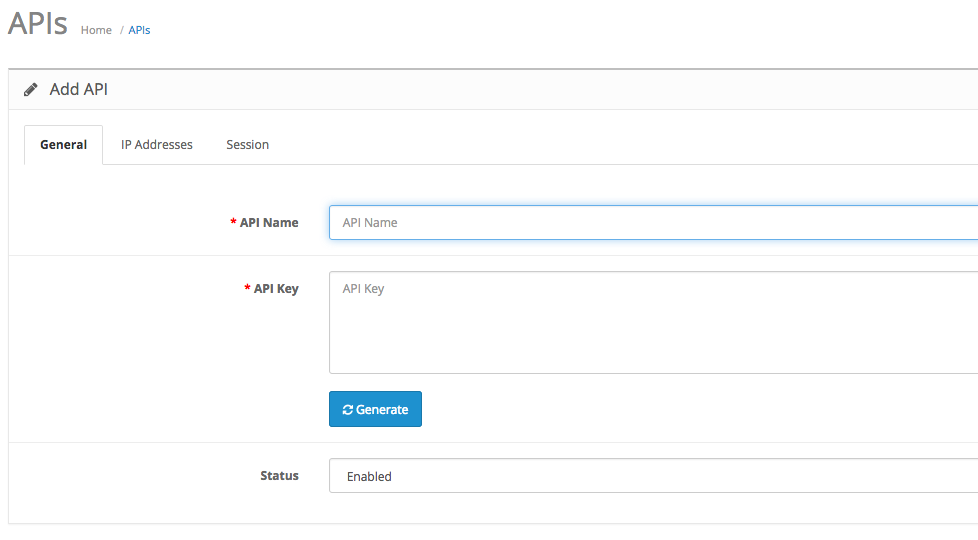 3. Add the OpenCart integration & API details into DHL Express Commerce
Log into your DHL Express Commerce account
Go to Settings > Integrations > Add a new integration > OpenCart
Tick Enable OpenCart
Tick Use API
Fill in the API Name and API Key created in the previous step

NB: this name and API must be the same as the ones used in the previous step

Click Save